Why winter weather makes it easier to catch a cold or flu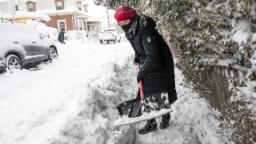 That's not exactly true. As with many things, the reality is more complicated. Here's the distinction: Being cold isn't why you get a cold. But it is true that cold weather makes it easier to get the cold or flu. It is still too early to tell how weather impacts the Covid-19 virus, but scientists are starting to think it behaves differently than cold and flu viruses.
As an
associate professor of nursing
with a background in public health, I'm asked about this all the time. So here's a look at what actually happens.
Many viruses, including
rhinovirus
— the usual culprit in the common cold — and influenza, remain infectious longer and replicate faster in colder temperatures. That's why these viruses spread more easily in winter. Wearing a heavy coat won't necessarily make a difference.
Virus transmission is easier when it's cold
Instead, people spend more time indoors. That usually means more close contact with others, which leads to disease spread. Respiratory viruses generally spread within a 6-foot radius of an infected person. When you are indoors, it is very likely that you are closer together than 6 feet.
What you can do
While the bottom line is that being wet and cold doesn't make you sick, there are strategies to help prevent illness all year long.
And one more important thing this year: When it's your turn, make sure you get the Covid-19 vaccine.
Libby Richards is an associate professor of nursing at Purdue University in West Lafayette, Indiana. Disclosure: Richards does not work for, consult, own shares in or receive funding from any company or organization that would benefit from this article, and has disclosed no relevant affiliations beyond their academic appointment.