What Josh Hawley's Electoral College objection really means for Republicans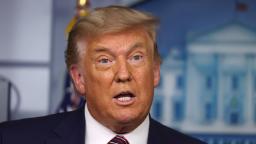 "I cannot vote to certify the Electoral College results on January 6 without raising the fact that some states, particularly Pennsylvania, failed to follow their own state election laws," Hawley said in announcing his decision. "At the very least, Congress should investigate allegations of voter fraud and adopt measures to secure the integrity of our elections. But Congress has so far failed to act."
Hawley is the first senator to formally object to the results, in which President-elect Joe Biden defeated Trump with 306 electoral votes to 232. Hawley joins Rep. Mo Brooks, an Alabama Republican, in his plans to object, which means that there will be a formal debate in both chambers about the debunked claims made by Trump and his allies regarding widespread voter irregularities and fraud in the election. And then, following that debate, there will be a vote.
This is a disaster for Republican leaders on both sides of the Capitol.
Senate Majority Leader Mitch McConnell of Kentucky has been desperately trying to defuse the rhetorical bombs being thrown by Trump on his way out of office — the latest being the
President's demand that $600 stimulus checks be increased to $2,000
— in hopes of protecting his vulnerable incumbents up in 2022 from difficult votes that could come back to haunt them in a primary or a general election.
That's exactly right. Trump has already been very outspoken in his disappointment with Republican senators who he doesn't believe have been supportive enough of his attempts to overturn the election.
Given that positioning, is there any doubt that Trump will cast this vote on the Electoral College as a pure loyalty test for every single Republican senator and House member? And will seek to punish those who vote against him?
You only need to look as far as Georgia's Brian Kemp for the answer.
Every single elected Republican in Washington has seen what Trump has done to Kemp. (And what Trump did to former Arizona Sen. Jeff Flake and soon-to-be former Michigan Rep. Justin Amash.) And not one of them wants to join that ignominious hit list.
But Hawley's announcement on Wednesday means that there will be no more escape routes for any Republican in the House or Senate. There will be a vote on whether or not to affirm the Electoral College vote count.
(Sidebar: What's Hawley's motivation here? Presidential ambition, plain and simple. He's had his eye on running for president since he was elected to the Senate in 2018, and this move is a totally transparent play to appeal to both Trump and the Trump base.)
And it's a vote where both the facts and the stakes are clear.
The facts are these: Despite ample time since November 3 to find proof of voter fraud and widespread wrongdoing, Trump and his legal team have uncovered absolutely nothing other than wild conspiracy theories that simply don't hold up under even the most basic scrutiny.
The stakes are these: If Republicans in the House and Senate don't vote to affirm the Electoral College results — given the utter lack of any facts that suggest there was anything close to the fraud Trump is alleging — they will fundamentally undermine the idea that the vote is sacred and that the peaceful transition of power is sacrosanct.
If Republicans choose Trump over country, it's not the sort of thing you can just undo. Nor is the damage such a vote would do something that can be fixed.