Reasons for cautious optimism amid Covid-19 crisis: 'The news about the future' is really promising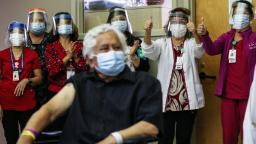 The prevailing news about Covid-19 was so bleak for so long. But the facts have changed — faster, perhaps, than the major news narratives have changed.
The vaccines are showing "spectacular" results, to borrow a
recent phrase
from Dr. Anthony Fauci. Hospitalizations are declining. The variants are a curveball, but it "just doubles down the idea that we need to get people vaccinated as quickly as possible," CNN's Dr. Sanjay Gupta says.
The new administration is activating what it calls a "whole-of-government response." Government experts are freely speaking to the press and the public. Conspiracy theories aren't being retweeted by the president anymore. Cautious optimism is warranted at this point — with an emphasis on the caution, to be sure, but without losing the optimism.
Some observers have been pointing to a disconnect between the data and public discussion of the pandemic.
That news about the future is primarily about the effectiveness of the vaccines.
Sometimes the detailed data from clinical trials obscures the big point, which is that the vaccines are largely effective at preventing symptomatic disease — "which means fewer hospitalizations, and subsequently, fewer deaths," as CNN Health exec producer Ben Tinker told me Wednesday night. "Additional preliminary data on the AstraZeneca vaccine — developed in conjunction with the University of Oxford — suggest it may also be effective at preventing transmission of the virus. That would be even more welcome news in the urgent effort to stem the tide of new cases." Every update just underscores the need to get more doses to more people ASAP…
WH briefings three times a week
Technical difficulties plagued the first briefing by the WH Covid-19 response team on January 27, but since then the videoconferences have been working well. Covid-19 chief Jeff Zients, Fauci, CDC Director Dr. Rochelle Walensky and other officials held briefings last Friday and all three weekdays so far this week.
Lockhart's view
Partisanship drives vaccine hesitancy
Of course, the scale of the crisis is mind-boggling. As Zients said, "vaccinating everyone in America is one of the greatest operational challenges we've ever faced, and we will not stop working until this mission is complete."
>> "Reluctance to get the vaccine is driven more by partisanship than any single demographic factor," the polling institute's director Patrick Murray commented. "It says a lot about the depth of our partisan divide that it could impact public health like this."
One death per minute?
>> Per CNN's Ben Tinker, "an ensemble forecast published Wednesday by the CDC now projects there will be 496,000 to 534,000 coronavirus deaths in the United States by February 27."