Marjorie Taylor Greene's history of dangerous conspiracy theories and comments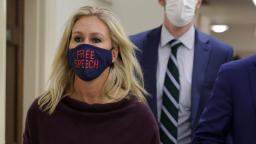 A CNN KFile review of both newly-uncovered and previously reported comments highlight the fringe nature of what Greene shared on and offline.
Greene defended herself ahead of the House vote in a floor speech Thursday as she tried to distance herself from her past conspiracy comments.
After Greene saw "things in the news that didn't make sense to me," she said she "stumbled across" QAnon at the end of 2017. She became "very interested" in the theory and began posting about it on Facebook because she "was upset about things" and felt she could not trust the government.
"The problem with that is, though, is I was allowed to believe things that weren't true, and I would ask questions about them and talk about them, and that is absolutely what I regret," she said.
"Because if it weren't for the Facebook posts and comments that I liked in 2018, I wouldn't be standing here today and you couldn't point a finger and accuse me of anything wrong," continued Greene, who went on to blame the media, including CNN, for her comments.
Here are some of the most extreme things Greene has done:
Greene repeatedly indicated support for political violence and execution of top Democrats and FBI agents
Greene, in a statement, did not deny that she liked posts and replied to comments but claimed that many people have run her Facebook page. Greene did not specify whether she or a member of her team were behind the posts reviewed by CNN's KFile.
"Over the years, I've had teams of people manage my pages. Many posts have been liked. Many posts have been shared. Some did not represent my views. Especially the ones that CNN is about to spread across the internet," Greene said in a statement last week.
Greene's campaign told CNN in an emailed statement in September 2020 that those who think the picture incites violence "are paranoid and ridiculous."
"The only way you get your freedoms back is it's earned with the price of blood," she said in the video from 2020.
Greene promoted violent, deranged conspiracy theories online
Greene peddled conspiracies that mass shootings were false flags and "staged"
While Greene peddled violent conspiracy theories online, she often speculated if real-world violent events were part of a deeper conspiracy and were actually false flag operations, which refers to acts that are designed by perpetrators to be made to look like they were carried out by other individuals or groups.
At the end of the video, Greene calls Hogg a "coward" and claimed Hogg's activism was funded by billionaire philanthropist George Soros, who is often the subject of far-right conspiracy theories, and other liberals. "He can't say one word because he can't defend his stance," she said.
In a statement posted on Twitter following intense backlash to some of her comments, Greene acknowledged that 17 people died in the Parkland shooting and blamed "gun free" zones at schools for the tragedy.
After live bombs were sent to Democratic politicians and CNN in October 2018, Greene repeatedly liked and agreed with multiple comments that the terrorist act was a "false flag" operation staged by Democrats.
She then questioned if a shooting at Kennesaw State University in Georgia that killed one person was "a failed op? What about hearing voices? Mental illness? Demon possession? Or military grade intelligence developed weapons like Voice of God technology," which refers to a government-controlled device implanted in a person's head.
"We don't know, but I do believe all three of those exist," she wrote.
Greene made similar unreported comments about the "Voice of God" conspiracy on Twitter in 2018.
Greene spread anti-Muslim and anti-Semitic comments and conspiracies
"These are women that really would like to see Sharia in America," Greene said in one since-deleted Facebook video, captured by CNN. Sharia refers to Islamic law, which is interpreted from the religious text of the Quran, and encompasses marriage, divorce, inheritance and punishments for criminal offenses.
"And as an American woman, as a business owner, as a mother, I have two daughters — I never want to see Sharia in America. And so I really want to go talk to these ladies and ask them what they are thinking and why they're serving in our American government. They really should go back to the Middle East if they support Sharia. So let's go talk to them. Definitely want to go talk to them."
In a 2018 Facebook comment, captured by CNN, Greene responded "truth," to a comment comparing Obama to terrorist Osama bin Laden. The comment came in response to a post where Greene said the Obama presidency was "flooding our country and government with Muslims that don't like our American ways!!!!!"
In another video from 2019, saved by CNN's KFile, Greene spoke about going into Omar's and Tlaib's offices and saying all Muslims want to take away women's rights.
"Did you see the part where we went into Ilhan Omar and Rashida Tlaib's office?" Greene said. "I was like, so are you going to make me live under Sharia law? And I'm an American woman. Are you going to take away my equal rights?"
"They would in a heartbeat," responds another rally participant.
"Yeah," Greene responded. "They all, all, all Muslims. That's the goal of Islam. The goal of Islam is Sharia, and they want to conquer. They want to conquer America and we're not going to do it."
Greene directed anti-Muslim rhetoric at the American Muslim Women Political Action Committee in 2018.
"Wtf is their mission??? To make sure every women is dominated by Islam, is covered in sheets, loses our freedoms, and has to have our vaginas mutilated???," she wrote in 2018 on Facebook. Greene then liked a comment that the PAC was an "invasion" of our government. In another instance, Greene liked a comment saying "We don't need gun control! We need Muslim control!"
This story has been updated to reflect the House's vote to remove Greene from her committee assignments.