Health care: 5 ways Biden wants to reset after Trump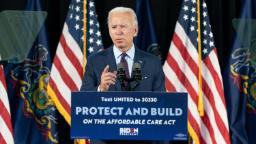 President-elect Joe Biden has a long list of
health care promises
— many of which center on reversing policies enacted by the Trump administration over the past four years.
However, it will take the President-elect's health officials time to address all of the measures, particularly as battling the coronavirus pandemic remains the top immediate priority. Some items would be easy to undo, but others involve regulations and waivers that can't simply be voided. And some would need approval from Congress, which would be a challenge because Biden can't afford to lose a single Democrat in the Senate — and few in the House, after his party lost seats in the chamber.
Also, lawmakers have yet to confirm Xavier Becerra, Biden's pick for Health and Human Services Secretary, and the President-elect has yet to name his administrator for the Centers for Medicare and Medicaid Services, who will play a central role in putting his agenda into place.
The case will continue even if the Justice Department under Biden withdraws, because it originated with Texas and other Republican-led states. But the President-elect could work with the new Democratic majority in Congress to short circuit the GOP states' legal argument — by setting the penalty at a $1, for instance.
As for shoring up and building on the Affordable Care Act, Biden has plans big and small.
These measures run counter to Biden's promise to expand access to Medicaid so his administration is expected to seek to limit or undo these waivers during his term, as well as possibly restore the criteria on waivers' impact on increasing coverage.
Also, Congress has limited states' ability to trim their Medicaid rolls during the public health emergency. The Biden administration may want to continue some of those provisions after it ends.
Changing abortion policy: The Biden administration is also expected to revamp federal abortion policy by rescinding a slew of restrictions implemented over the past four years.
Reducing drug costs: Like many presidents, including Trump, Biden has promised to lower drug costs. Among his preferred ways is to allow Medicare to negotiate prices, which is also favored by the Democratic-led House. But actually putting this into law would be a massive undertaking in Congress.
It remains to be seen what Biden's Department of Health and Human Services will do with them.
Biden also supports allowing consumers to import prescription drugs from other countries.
With the rule still in place, Biden could try to reinforce it by issuing a new, more targeted rule that specifically prohibits that type of discrimination, going a step further than the department did in its 2016 regulation.
The incoming administration has also promised to take action on LGBTQ mental health services, something that will be key for members of the transgender community, which sees uniquely high rates of suicide attempts.