Hassan Rouhani Fast Facts – CNN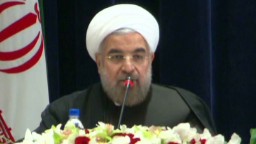 Marriage: Sahebeh Arabi
Children: Has four children
Education: University of Tehran, B. A., 1972; Glasgow Caledonian University, M. Phil., 1995; Glasgow Caledonian University, Ph.D., 1999
Other Facts
Rouhani is a cleric. His religious title is Hojatoleslam, which is a middle rank in the religious hierarchy.
Arrested many times in the 1960s and 1970s as a follower of Ayatollah Khomeini.
Iranian media refers to Rouhani as the "diplomat sheik."
Timeline
1960 – Begins his religious studies at a seminary in Semnan province.
1977 – Under the threat of arrest, leaves Iran and joins Ayatollah Ruhollah Khomeini in exile in France.
1980-2000 – After the overthrow of the Shah, Rouhani serves five terms in the National Assembly.
1983-1988 – Member of the Supreme Defense Council.
1985-1991 – Commander of the Iranian air defenses.
1988-1989 – Deputy commander of Iran's Armed Forces.
1989-1997 – National security adviser to the president.
1989-2005 – Secretary of the Supreme National Security Council.
1991-present – Member of the country's Expediency Council.
1999-present – Member of the Council of Experts, the group that chooses the Supreme Leader.
2000-2005 – National security adviser to the president.
June 14, 2013 – Wins the presidential election after securing more than 50% of the vote.
May 20, 2017 – Rouhani wins reelection after securing approximately 57% of the vote.