Former Mississippi Gov. William Winter dies at 97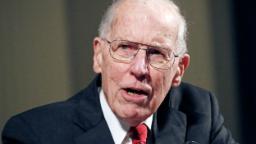 Winter served as governor from 1980 to 1984 and is best known for pushing through the 1982 Education Reform Act, which overhauled the state's public education system.
"Known as Mississippi's Education Governor, Winter secured passage of landmark
educational initiatives in 1982
bringing kindergartens, compulsory school attendance, and a range of other key reforms to a state plagued by poverty and illiteracy," said a statement provided by Dick Molpus, family spokesperson and former Mississippi Secretary of State.
"[Winter] fought to bring equity to education through the Education Reform Act of 1982, which set high standards for students, teachers and schools and established free public kindergarten for all children.
"His work will live on in the generations of Mississippians whose lives were changed by the opportunities their education provided them," she said.
Threatened by the Klan
After serving in the US Army during World War II, Winter was elected to the Mississippi Legislature in 1947 while still a student at the Ole Miss Law School, the family statement said.
Winter's family said he opposed the Klu Klux Klan and White Citizens Councils and their stance on strict racial segregation in the 1950s and 1960s, with the KKK threatening his life when he unsuccessfully ran for governor the first time in 1967.
Current Mississippi Gov. Tate Reeves tweeted that he and his wife were deeply saddened by Winter's death.
Winter is survived by his wife of 70 years, Elise Varner Winter; three daughters Anne Winter, Lele Gillespie and Eleanor Winter and five grandchildren, said the statement.
"A memorial service will be held once the dangers from Covid-19 abate and it is safe to gather for a service," it said.
Winter's cause of death has not yet been disclosed.